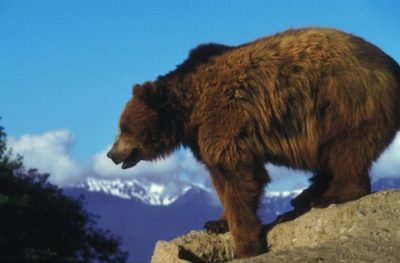 Target: Scott Talbott, Director at Wyoming Game and Fish Department
Goal: Do not sanction the killing of Yellowstone grizzly bears.
Yellowstone National Park just became the latest example of what dangers loom when an animal is prematurely removed from the federal endangered species list. Despite a court's earlier contention that states should not be given free reign over their grizzly bear populations, the United States Interior Department recently gave the three states collectively housing Yellowstone National Park permission to hunt and kill the park's vulnerable grizzly population at will.
The announcement comes as the department rescinded federal Yellowstone grizzly protections that first began in 1975. As a result of these protections, Yellowstone's grizzly population had increased by seven times its number before protections were put in place. Now, this progress may well be lost as the still-struggling grizzlies, who already only cover less than five percent of their natural habitats, now face hunting threats compounded by more habitat loss due to climate change.
Two states, Wyoming and Idaho, quickly seized upon this outrageous reversal by proposing grizzly bear hunts as soon as this fall. Under Wyoming's proposed new guidelines, hunters could claim the lives of up to 24 grizzlies.
Sign this petition and demand the Wyoming Game and Fish Department veto a proposal that threatens the livelihood of some of its state's most awe-inspiring living beings.
PETITION LETTER:
Dear Mr. Talbott,
About 50,000 grizzly bears once spanned this country, many of them calling your state home. Relentless hunting of these animals plummeted their numbers to genocidal levels and drove them to the federal endangered species list.
Now, when the grizzly is finally recovering from its near-extinction, it has been stripped of the very shields that protected it and preserved it for the enjoyment of generations of Yellowstone National Park's visitors.
Just as the gray wolf received special consideration and protection because of its value to the environment and to your state's history, the state's grizzly bear population deserves the same respect. Do not take advantage of the Interior Department's decision and put these vulnerable animals in the crosshairs of hunters.
Sincerely,
[Your Name Here]
Photo Credit: US Fish and Wildlife Service